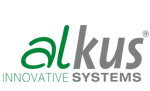 ---
---
alkus panel system – the economical formwork panel solution
alkus solid plastic panels are the economical alternative to conventional wooden formwork panels for the construction industry. The panels can be processed like wood, but are many times more durable – because they are moisture-resistant, UV-resistant and can be repaired in the same way as the fabric. It pays off. More than 1,000 applications with a single alkus solid plastic sheet have been documented. The all-plastic panels from alkus can be made to fit any formwork system and any frame – regardless of size and shape. Due to the possibility of jointless welding and the extreme bendability and formability almost all concrete projects can be realized with the alkus panel system.
alkus pays off!
---
Some advantages of the alkus panel system at a glance:
Extremely durable
up to 1,000 inserts with one plate
7 years long-term warranty
moisture resistant – therefore no rotting, swelling, shrinkage, discolouration and no ripple formation
high abrasion resistance and UV resistance
Simple and durable repair option – fabric-like without loss of quality
Extremely practical
System-independent – can be used in the frame systems of all manufacturers
Almost any concrete shape and size can be realised – Can be shaped and bent like sheet metal, seamlessly welded
nail, screw and saw like wood
Cleaning with high pressure cleaner (up to 1000 bar) or rotary cleaner
No loss of quality during outdoor storage
Environmentally friendly recycling cycle – no extra costs for hazardous waste
---
Request a non-binding offer for the alkus solid plastic sheet right here.
---
---
---
---
Installation of the alkus solid plastic sheet
---
---
Plate repair – alk
us solid plastic panel
---
---