Used formwork, props and scaffolding from your experts
---
Every building contractor knows what a cost factor formwork, scaffolding or slab props are when they are sometimes tied up on a building site for weeks or months at a time.
It is the same with construction machinery and especially cranes, which often have long downtimes until the last work on a construction site has finally been completed.
So it makes sense to consider the use of second-hand props, scaffolding or formwork when making an investment.
The capital expenditure is considerably lower for used parts. However, since we only sell tested and fully functional goods in good condition, the period of use is hardly more limited than with new goods.
Make the test and get an offer for example for used ceiling props and compare it with identical new goods. You will see that your cost advantage is immense, which opens up the possibility for you to leave one or the other competitor behind you in the case of offers, because you can calculate the period of use of the ceiling supports much more favourably than a supplier who only uses new goods.
The same applies, of course, to construction machinery or cranes, where we always have a bargain in store for you. Especially with new machines the loss of value in the first years is huge. This is only worthwhile for machines that are really in continuous use. All construction machines, which have downtimes in between or construction supports, which are always resting in storage for a long time between uses, are better purchased used, because the wear and tear is not the problem, but the high investment requirement at the time of purchase and the rapid loss of value in the balance sheet.
We carry used building props, formwork and scaffolding from all well-known manufacturers such as
Peri, Meva, Doka, Hünnebeck, Paschal, NOE, Ischebeck, Reber, Hägele or Wendler.
This means that we can also help you if you are looking for additions to your stock and are therefore dependent on a particular brand.
Of course, we will also search for you if we do not have certain parts in stock. However, we are also happy to supply you with new parts from the areas of construction supports or scaffolding at very favourable prices, if you so wish.
In addition to used supports and machines of all kinds for construction site equipment, we also always carry special items from the field of construction, building materials, sanitary materials or building materials.
In this respect, it is worthwhile for you to visit us from time to time, because if you find a favourable special item that matches one of your projected construction sites, you will again have a considerable price advantage over the competition, which maximises your profit or secures you the order, because you can offer more favourably than your competitors. And if you need to expand your stock for the material you have ordered from us, because you have bought so cheaply, then you will also find what you are looking for with us.
Again and again we have very cheap, used steel halls on offer, which you can erect quickly and thus create storage space at low cost.
We deliver worldwide, take a look at our offers and request a non-binding quote!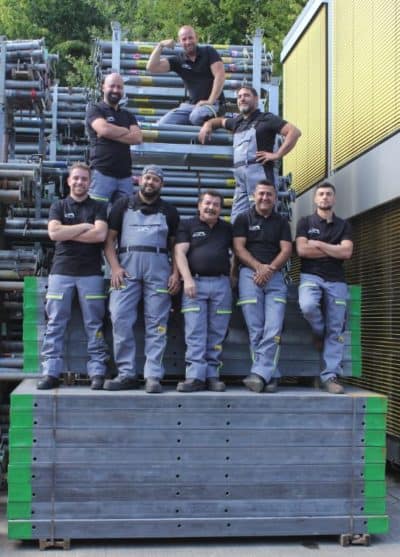 ---